Grade Control Structure - Rock Chute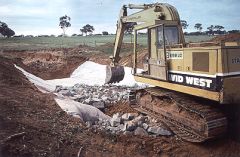 Before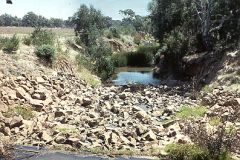 After
Description
Shallow layer of dense angular rock used to build a long sloping chute. Total fall usually limited to about 1m. The design incorporates an upstream notch, a chute section and an energy dissipating area. Cost $6,000 plus.
Application
Used to control active bed erosion in gullies, streams and rivers.
Limitations
Requires good supply of dense angular rock within reasonable cartage distance.
Comments
Filter cloth must be used in soils prone to slaking or dispersion. These structures are "flexible" easy to maintain and have an indefinite life.