Concrete Head Structure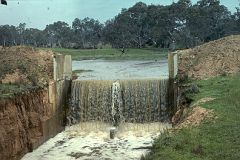 Drop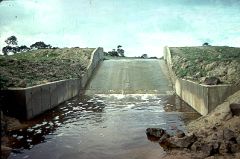 Chute
Description
These structures are built on site from reinforced concrete. They consist of a headwall and notch, a drop or chute section and a stilling pool to dissipate energy. Cost $20,000 plus.
Application
Used in larger catchments to control headward erosion where diversion and gully battering is not feasible.
Limitations
Not suitable for sites with an unstable gully floor. Unsuitable for sites with deep cracking clay, deep tunnels or sub-surface seepage. Prone to failure from inadequate foundations. Difficult to repair.
Comments
These structures are difficult to build and require specialised equipment and experienced construction crews.